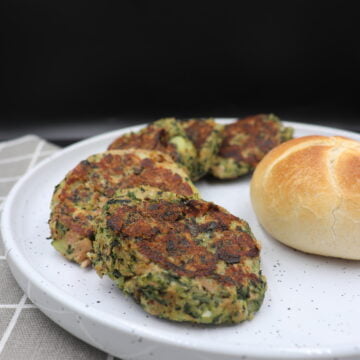 Tuna & Spinach Cakes (Pulpetti tat-Tonn)
A very popular dish in Malta & a yummy one too! We call them "Pulpetti" & this is just one type that you can make. More to come!
Ingredients
820

g

tuna

canned

1200

g

potatoes

cut into small cubes

800

g

spinach

150

g

grated cheese

Salt & pepper

2

tbsp

sunflower oil

35

g

garlic

diced

1

tbsp

dried parsley
Instructions
Drain the oil from the canned tuna.

When the potatoes are cooked, start with the mixture. In a large bowl, mix together the potatoes, spinach, tuna, grated cheese, garlic & parsley. Season everything with some salt & pepper.

Mash the ingredients well with a potato masher. Start forming the patties.

Preheat the oven to 175C.

Heat up the oil in a frying pan. Start frying the patties by cooking them for 5 minutes on each side over medium heat.

When they are cooked transfer them onto paper towels to drain the excess oil from them.

When done cooking all the patties, put them on a baking paper in a baking dish & cook them in the oven for 10 minutes.

Serve them with salad, bread or to your preference.