When I mention or remember of Stuffed Baked Potatoes Casserole, it reminds me of my mother. When I was younger she used to stuff vegetables. Seeing as I was younger, veggies weren't my favorite thing to eat. So she used to make time & stuff potatoes to make me happy! Recently I remembered about all this again. So I decided to create a recipe out of this loving memory of my mother that I cherish so much. I know she would be very proud to know that I put my twist to it as she was my biggest supporter. So here it is! A stuffed baked potatoes casserole with a tasty twist.
A tender potato stuffed with a delicious stuffing on top of a rich, mouthwatering tomato sauce. It's a very filling & heartwarming meal. You're sure to be very happy & have your belly full when you're done eating.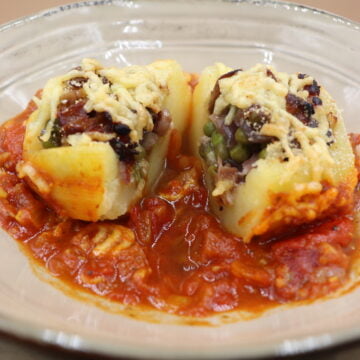 Stuffed Baked Potatoes Casserole in Tomato Sauce
A deliciously stuffed potato casserole in a rich, tomato sauce that goes amazingly together & it's simply heartwarming!
Ingredients
2.5

kg

potatoes

large, peeled

280

g

red onion

diced

200

g

bacon

chopped

250

g

mushrooms

sliced

3

tsp

curry

Pepper

115

g

peas

3

tbsp

teriyaki sauce

30

g

garlic

diced

400

g

tomato sauce

230

g

cherry tomatoes

2

tbsp

tomato paste

3

tsp

oregano

400

ml

vegetable stock

Breadcrumbs

150

g

grated cheese

2

tbsp

olive oil

1

tbsp

butter

2

tbsp

Worchestershire sauce
Instructions
Create a hole in the potatoes.

Heat the oil & melt the butter in a frying pan. Add 100g of the onions, garlic & curry. Cook for 4 minutes over medium to high heat, stirring occasionally.

Add the cherry tomatoes, oregano, Worchestershire sauce & tomato paste. Cook for 2 minutes over medium heat, stirring occasionally.

Add the tomato sauce & stock. Bring to boil & then let simmer for 15 minutes.

In a separate frying pan, heat the pan up. Add the bacon & cook for 3 minutes over medium to high heat, stirring occasionally.

Add the peas, mushrooms, teriyaki sauce, pepper & the rest of the onions. Cook for 5 minutes over medium heat.

Cover the frying pan, lower the heat & cook for 10 minutes.

In an oven dish, spread the tomato sauce on the bottom. Spread the potatoes. Stuff the potatoes with the bacon mixture. Cover the dish with aluminium foil & cook in the oven for 1 hour.

Uncover the dish. Top the potatoes with the grated cheese & breadcrumbs. Cook in the oven for 10-15 minutes.
Nutrition
Calories:
863
kcal
Carbohydrates:
94
g
Protein:
20
g
Fat:
47
g
Saturated Fat:
19
g
Cholesterol:
58
mg
Sodium:
1302
mg
Potassium:
2486
mg
Fiber:
13
g
Sugar:
15
g
Vitamin A:
1526
IU
Vitamin C:
111
mg
Calcium:
302
mg
Iron:
6
mg