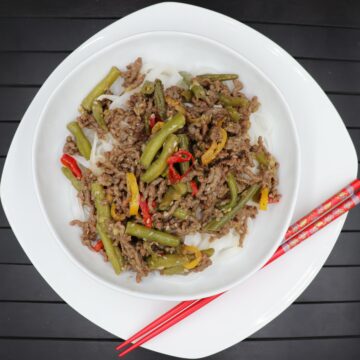 Spicy Pork & Green Bean Noodles
Just a warning for those people who are sensitive to spicy food, that it is truly spicy & to those people who love spicy food, you'll love it!
Ingredients
500

g

minced meat

pork

2

tbsp

wok oil

50

g

spring onions

sliced

1

tbsp

meat seasoning

Salt & pepper

2

tbsp

teriyaki sauce

2

tbsp

sesame seeds

white

2

tbsp

sesame oil

50

g

chilli peppers

sliced

200

g

green beans

frozen

500

g

pad thai noodles
Instructions
Heat up a frying pan & add the wok oil.

Add the minced meat & season it with the meat seasoning. Cook for 3 minutes over medium to high heat, stirring frequently.

Add the chilli peppers & spring onions to the pan. Season them with salt & pepper. Cook for 4 minutes, stirring occasionally.

Add the green beans & teriyaki sauce to the pan. Stir everything together. Cover the pan & cook for 10 minutes over medium heat.

In the meantime cook the noodles. Start by boiling 3 litres of water. Turn the heat off. Add the noddles to the sauce pan & close the pan. Let it soak for approximately 9 minutes. Strain the noodles & rinse them. Let them drain well.

Add the sesame seeds & the sesame oil to the frying pan. Mix well together.

Serve the meat mixture on top of the noodles & sprinkle some more sesame seeds on top.