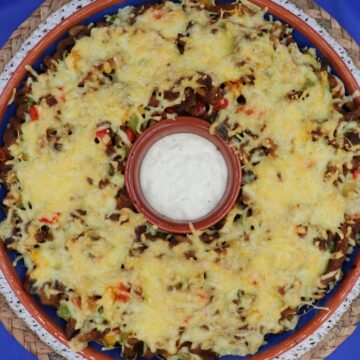 Shawarma & Cheese Loaded Fries
Loaded fries loaded with delicious toppings, perfect for game night, parties, movie night & any other occasion, sharing with other.
Ingredients
100

g

white onion

diced

500

g

bell peppers

chopped

Pepper

2

tsp

curry powder

1

tsp

meat seasoning

2

tsp

paprika powder

Garlic sauce

200

g

grated cheese

900

g

shawarma meat

1

kg

fries

oven baked french fries

200

g

mushrooms

sliced

2

tbsp

olive oil
Instructions
Cook the fries according to instructions.

Heat up the olive oil in a frying pan.

Cook the meat, pepper, curry, paprika & meat seasoning for 6 minutes over high heat, stirring occasionally.

Add the bell peppers, onions & mushrooms to the pan. Cook for 10 minutes over medium heat, covering the pan.

Uncover the pan & cook for a further 5 minutes.

Put the fries in an oven dish & then add the meat mixture on top of the fries. Top it off with the grated cheese & cook in the oven for approximately 10 minutes or until the cheese has melted.

Serve some garlic sauce on the side for dipping.