A traditional Maltese Easter treat. As you can see above this they're called Figolli. Pronounced fig-all-lee, if you where wondering. It's a delicious sweet treat that is shared among family & friends. It is also given as an Easter gift to enjoy on Easter day, after Easter day & in many cases among Maltese families, even before Easter! They're simply too good of a temptation! The idea is to enjoy it bit by bit, piece by piece, everyday, for as long as you can.
This Maltese pastry is a biscuit, filled with an almond filling, marzipan like. The biscuit has also a zesty taste due to the lemon peel & also vanilla.
They come in various shapes. Most of them being Easter themed like bunnies, sheep & egg. But you also see fish, butterflies, cars & hearts thrown in the mix. My favorites, which I go back to every year, are flower shape & circle. I feel they give me more room for creativity. It's just a matter of feel free to be creative. The magic is all in the filling & the biscuit. Also, when making these delicious treats, it is a must that you do not waste any leftovers. If you do not have enough for a large Figolla, then make some small ones! No ingredients left behind!
When it comes to how to decorate them there are loads of ideas, as you can also see from the photos in this article. They are some of the Figolli I have created throughout the years. I will be adding more ideas every year, so stay in touch!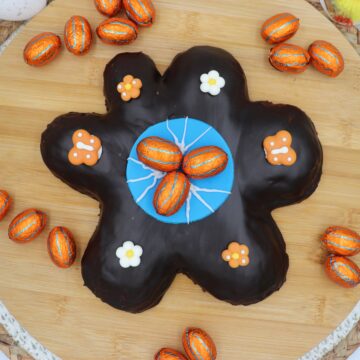 Maltese Figolli (Easter Almond Filled Biscuits)
A traditional Maltese Easter treat. A biscuit filled with an almond filling. It comes in a lot of different shapes & also sizes, it all depends on your liking. Shapes vary but most commonly are Easter themed.
Ingredients
Figolli Dough:
800

g

plain flour

340

g

sugar

340

g

margarine

1

lemon peel

grated

4

medium

eggs

beaten

2

tsp

vanilla essence
Figolli Almond Filling:
800

g

almonds

grated

3

tsp

almond essence

4

medium

egg whites

beaten

500

g

sugar

Sprite (soft drink)

in case the mixture is dry
Instructions
Figolli Dough:
In a large bowl, mix the flour & butter with your fingertips until the mixture is turned into fine crumb texture.

Add the sugar, lemon peel & vanilla essence to the flour mixture & mix well.

Add the eggs to the mixture as well & mix well until you form a dough.

Wrap the dough in plastic wrap & refrigerate for 1 day.
Figolli Almond Filling:
In a large bowl, mix the almonds & sugar together.

Add the almond essence to the mixture & mix well.

Add egg whites & mix well. The mixture should have a bit of a wet, soft, sticky texture.

*If the mixture is dry, add a bit of the Sprite & mix well.
Figolli Assemble:
Spread some flour on a flat surface & start rolling the dough out, not too thin & not too thick.

Using your preferred pastry cutter, cut the dough into shapes making sure you have one for the bottom & another one the same for the top.

Fill the bottom part with the almond mixture leaving a bit of the edges all round clear.

Damp a bit the edges with water & put the other dough cut on top, pressing a bit the edges together.

Place the Figolla in a baking sheet on top of a baking paper & cook in the oven for approximately 30-40 minutes.

When they're ready cooked, let cool completely.
Figolli Decorating:
You can now get creative! Decorate the Figolli to your liking.

In my case, this time I used a dark chocolate topping for half of them & a fudge topping for the others. For decorations I used a mixture of Easter themed sugar decorations, chocolate Easter eggs, colored piping, sprinkles & fondant.
Nutrition
Calories:
3387
kcal
Carbohydrates:
408
g
Protein:
73
g
Fat:
173
g
Saturated Fat:
23
g
Trans Fat:
1
g
Cholesterol:
164
mg
Sodium:
922
mg
Potassium:
1779
mg
Fiber:
30
g
Sugar:
219
g
Vitamin A:
3281
IU
Vitamin C:
2
mg
Calcium:
615
mg
Iron:
18
mg