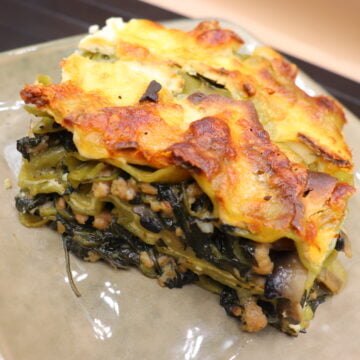 Chicken & Spinach Lasagna
Lasagna is such a rich dish & I have to admit one of my absolute favorites. So I loved giving a twist to such a classic dish. Such amazing, rich tastes. Instead of the classic meat & tomato sauce lasagna, I went with a different route. Chose chicken, spinach, mushroom & white sauce instead. The results: MOUTHWATERING!
Ingredients
800

g

chicken mince

2

tbsp

olive oil

40

g

butter

Salt & pepper

1

tbsp

chicken seasoning

140

g

white onion

diced

18

g

garlic

diced

450

g

fresh spinach

230

g

mushrooms

sliced

800

g

besciamella sauce

2

tbsp

parsley

450

g

lasagna sheets

verdi

Baking spray

950

g

ricotta

¼

tsp

garlic powder

400

g

mozzarella

sliced
Instructions
Spray an oven dish with baking spray & let it set.

In a pan, heat up the oil & melt the butter.

Add the chicken mince to the pan & season it with the chicken seasoning. Break apart into small bits. Cook for 7 minutes over high heat, stirring occasionally.

Add the onions & garlic to the pan & season everything with some salt & pepper. Cook for 8 minutes over medium to high heat, stirring occasionally.

Add the mushrooms & spinach to the pan. Close the pan, lower heat & cook for 12 minutes. After the 12 minutes, remove any liquid from the mixture.

After, add the besciamella. Bring to a boil & then turn off the heat.

In a separate bowl, mix the ricotta, salt, pepper, parsley & garlic powder well together.

Start assembling the lasagna by layering first a layer of the lasagna sheets. Then spread the chicken mixture over & layer another layer of lasagna sheets on top. Spread half of the mixture of the ricotta & again layer a layer of lasagna sheets on top of the ricotta. Repeat with the chicken mixture, lasagna sheets & finish with the remaining ricotta on top.

Cover the dish with aluminium foil & cook in the oven for 60 minutes.

Remove the foil & spread the mozzarella slices on top. Continue cooking in the oven for 20 minutes.

Let it cool a bit when done cooking & then serve.